12/7/2019
A longtime coworker's son went to Pittsburgh to study engineering. As part of a work study program, he went to Belgium to study engineering at various enterprises. One of his mementos was a beer bottle. My coworker, knowing that I collected bottles, gave it to me one day. I was blown away because this bottle had a unique band around the neck that I had not seen on a modern bottle.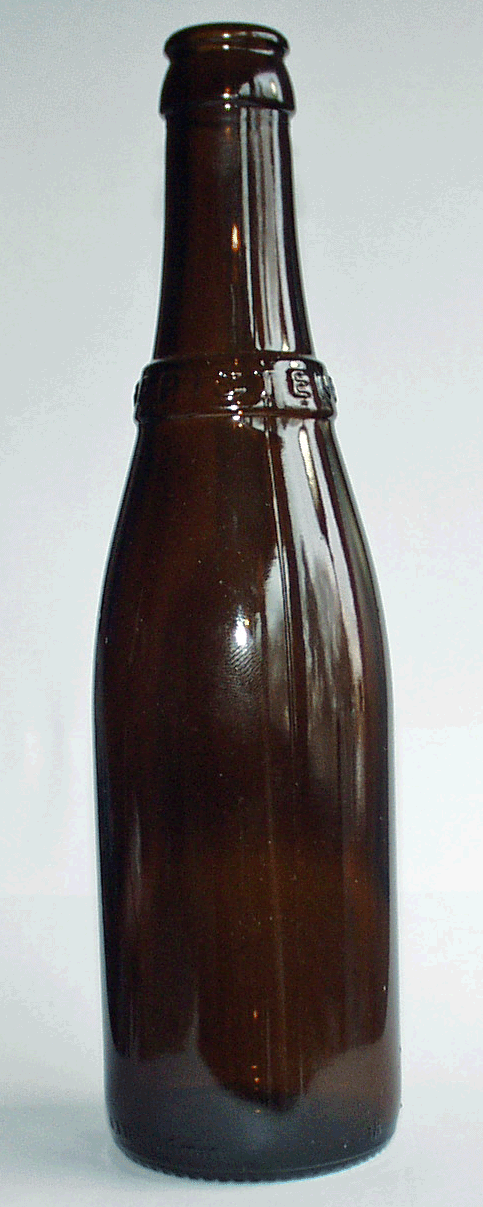 The bottle was from a Trappist Brewery located near Vleteren, Belgium and is embossed on the neck band "TRAPPISTENBIER." This brewery is run by Trappist monks and actually there are about a dozen Trappist monasteries across the globe that brew beer and sell it to the public. On their their web site, The Brewery Of The Saint-Sistus Abbey, the following history is provided:
In 1814 Jan-Baptist Victoor settled as a hermit in the woods of Westvleteren, where monastic communities had already living long before. The history of the Saint-Sixtus Abbey started when some monks of the French abbey Mont-des-Cats joined the hermit in 1831.
Aside their monastic activities the monks also cultivated the fields around the abbey, produced cheese… in order to be self-supportive. Already in the early days beer was brewed in small quantities, not for sale but just for their own consumption. The Saint-Sixtus Abbey's archive reveals that the first expenses for a brewery were made in June 1838.
In May 1839, the Abbey received a brewer's license signed by king Leopold I on April 19, 1839. Most likely a first test brew was produced the same month. In June 1839 the first official brew was produced. The 25,45 Belgian francs paid for the rights of the two brews bear witness to this.
This bottle likely held Trappist Westvleteren, which was touted as the best beer in the world. Getting the beer is no easy task. It is sold in wooden crates of 24 bottles. The beer is only sold to registered individuals and is only for personal use. As production is limited and you may have to wait a month or more after registering to be able to pick up your order. Yes it can only be picked up at the abbey and a deposit is required on the bottles and case.
Why was I blown away? Well this is not the first time a have seen an embossed band on the neck of a beer bottle. If we go back about 160 years, there is a similar bottle marked Espy. This is the bottle of Philadelphian Mills B. Espy, who is generally known for his food bottles.
Espy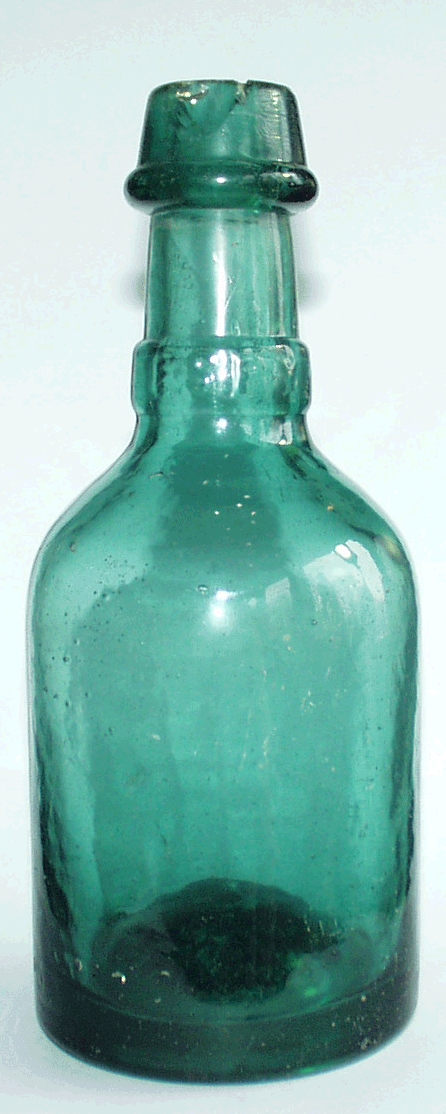 is first listed in the Philadelphia Directories as a broker on South Third Street in 1841. This was an occupation that he continued until he partnered with Jacob L. Wendell as Wendell & Espy, who purchased the pickle and preserve works of Thomas B. Smith & Company in July of 1851. Wendell was Smith's partner in T. B. Smith & Company and Espy likely provided needed capital to purchase Smith's share.
The Pickle factory was located at 152 South Front Street (post-1857, 312 South Front). In 1854, a new location was opened at 109 South Third Street (post-1857, 255 South Third). The Wendell & Espy partnership lasted thru May of 1855, when it was dissolved. With the split, each partner continuing their pickling and preserve business at separate locations. Wendell retained the old factory on South Front and Espy moved to new factory on South Third. Espy called his factory the Philadelphia Pickling Depot and Wendell called his the American Pickling & Preserving Establishment.
In May of 1858, if not earlier, Espy appears to have entered the business of bottling beer. Initially he advertised bottled porter, but later added ales and lager beer. It is during this time that Espy had his marked porter bottles manufactured. By 1859, he moved the business to 712 Market Street and appears to have continued bottling beer. He also added chocolate to the list of his manufactured products. It appears that the changes in location and extended product line proved too much for Espy and he offered his business for sale in May of 1860. Not getting any offers, the business was sold at auction in September of the same year.
But what about the band? Thinking about it, I recall some bottles pictured in Willy Van den Bossche's epic book Antique Glass Bottles Their History and Evolution (1500-1850).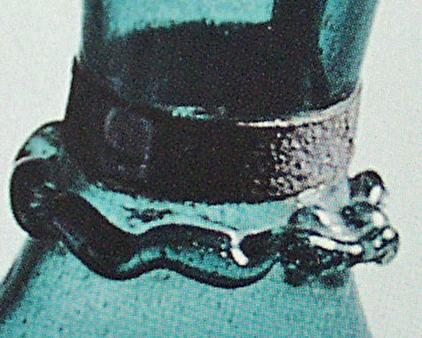 These bottles had applied metal bands around the neck and were measuring bottles. The liquid would be poured into the bottle up to the band and that would represent a full measure. The bottles were certified by local officials so that the public would know that they were getting the correct measure of the product that they were purchasing. They were used to dispense wine, oil, or other valued products. Van den Bossche states that there bottles were used in South-western France during the first half of the Eighteenth Century. Did that tradition continue and is the band on the Espy and modern beer bottles an outgrowth of this desire to show full measure?
The band does appear to be in the proper location on both the old and modern bottles to indicate the proper liquid height for a proper measure. At the very least, it could have been a guide to the bottler as to how much liquid should be added to the bottle. A check of the modern bottle shows that the actual filling of the bottles is to about an inch above the band. So a measuring guide seems unlikely, at least for today.
Perhaps the band is just an advertising replacement for the paper bands that are a traditional identification of the product in the bottle, but being so small, that seems unlikely.
It also seems unlikely that it was used as a grip to ensure a firm grasp, like the hobble nails on the neck of some 1920-1930 milk bottles, as it is not in the exact place where you would hold the bottle.
None of these three ideas seems plausible and am out of ideas and looking for suggestions. Email me with your thoughts. There must be some tradition somewhere that explains this. In any case, there we have it. One bottle from the Nineteenth Century and another from the Twenty-First and both using the same distinctive decoration on their necks.
Image of band on measuring bottle courtesy of Willy Van den Bossche's from Antique Glass Bottles Their History and Evolution (1500-1850). Others collection of the author.
1/19/2019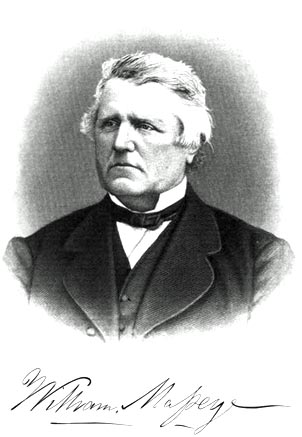 William Massey was started his brewing career in England, picked it up in Philadelphia on his arrival in the United States, operated as a bottler in New Orleans, and ended his career as a major force in Philadelphia's brewing industry.
From the Biographical Encyclopedia of Pennsylvania of The Nineteenth Century published by the Galaxy Publishing Company in 1874, we get some background on Massey:
MASSEY, WILLIAM, brewer was born in Liverpool, England, England, November 16th, 1808. When he was a year old, his father removed to Hawley Potteries, in Staffordshire, where he received his education. After leaving school, he entered his father's establishment, where he learned the business of Brewing. In 1828, he emigrated to the United Sates, the voyage occupying five months, as the vessel--through stress of weather—was obliged to put into Fayal to repair and refit. On his arrival in Philadelphia, he found employment in Gray's Brewery, on Sixth street, where he remained two years, and then proceeded to New Orleans, becoming engaged in that city in the bottling business. He dwelt there for twenty-four years, and during the entire period, enjoyed the best of health, never experiencing any of the miasmatic diseases so common to that locality. Always actively engaged in attending to the manifold details of his business, he prospered greatly from year to year. In 1849, and five years prior to leaving New Orleans, he became a member of the firm of Poultney, Collins & Massey, who had purchased the interests of M. L. Dawson, in the extensive brewery located at the northwest corner of Tenth and Filbert streets, Philadelphia. In 1854, he returned to the North, where he has ever since resided, giving his whole attention to the business, as head of the firm of William Massey & Co., his associates in that house consisting of John Gardiner, James M. Hall, and William Massey Robinson. The brewery and malt house is the largest in the State, and perhaps the most extensive in the Union, there having been brewed during the season of 1872-3, the enormous quantity of 113,000 barrels of ale and porter, each vessel having a capacity of 30 gallons. To produce this; result, 250,000 bushels of barley, and 125 tons of hops were used. Personally, he is a genial, modest, unassuming man of kindly disposition and winning manners. He is one of the most generous and charitable of citizens, and his bounties are large and well bestowed. He is a member of the Albion and Hibernian Societies, and has been for a long while Vice-President of the Society of the Sons of St. George. In political faith, he is a Democrat, and since the establishment of the Reform Club, has been elected one of its Governors. He is prominent in every enterprise intended for the development and improvement of the city, and increase of its commerce. He was married, in 1830, to Fanny, daughter of Samuel Miller, of Bridgeton, New Jersey.
Massey was advertising the sale of Albany Ale in 1835 and Philadelphia Brown Stout in 1836 from 155 Old Levy. Ten years later, he was selling beer from 20 Beinville Street. An advertisement in the Times-Picayune newspaper on February 11, 1846 indicates Massey used ceramic bottles:
Notice.
THE undersigned has just imported from England at considerable expense a quantity of Stone Bottles for his Porter, Ale and Cider business. He hereby warns all dealers not to purchase any of them, as they are stamped with the name of the undersigned, and are intended for his private use only.
WM. MASSEY, 20 Beinville st
Several of Massey's bottles, like the slab seal illustrated above, are clearly of English manufacture. It is likely Massey used his connections back in Staffordshire, England to have the bottles made and imported to New Orleans.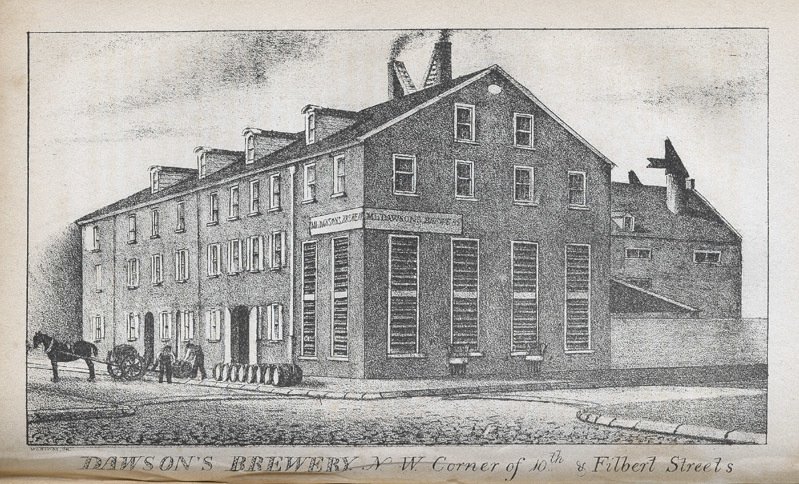 Massey appears to have been an agent for the M. L. Dawson & Company porter and ale brewery on the Northwest corner of North Tenth & Filbert Streets in Philadelphia. This brewery was founded, about 1823, by farmers who were not satisfied with the prices Philadelphia brewers were paying for their grains and was called the Farmer's Brewery. They went out of business during 1827 and the contents of the brewery were sold in the Fall of that year. The brewery was purchased by Mordecai L. Dawson as noted in Poulson's American Daily Advertiser Friday, Jun 19, 1829:
The Farmer's Brewery, at the corner of Tenth and Filbert-streets, was purchased on Tuesday last by Mr. Mordecai L. Dawson, for the sum of twenty-five thousand dollars. There is a ground rent of 700 dollars per annum on the premises. The original cost of the property was 70,000 dollars.
1849 was a pivotal year for Massey as documented in the New Orleans Crescent on November 14, 1849:
DISSOLUTION-The co-partnership heretofore existing under the firm of M. L. DAWSON & CO., is this day dissolved by mutual consent. The business of the plate firm will be settled by their successors, POULTNEY, COLLINS & MASSEY.
M. L. DAWSON,
CHAS. W. POULTNEY
WM. WAYNE WISTER.
Philadelphia, 10th Month 4th, 1849.
___________________

CO-PARTNERSHIP--The subscribers having purchased the entire interest of M. L. DAWSON & CO., will continue the BREWING BUSINESS under the firm of POULTNEY, COLLINS & MASSEY, Philadelphia, and MASSEY, POULTNEY & COLLINS, New Orleans.
CHAS. W. POULTNEY,
F. COLLINS,
WILLAIM MASSEY.
Philadelphia, 10th Month, 4th, 1849.
____________________

THE subscriber having connected himself in business as per the above advertisement is prepared to supply his friends and the public with PORTER, ALE, and EXTRA ALE FOR BOTTLING, and PALE AND AMBER ALE FOR DRAFT, by the cask or barrel, at the premises formerly occupied by him, Nos. 19 and 21 Beinville street, under the name and style of MASSEY, POULTNEY & COLLINS. He would also inform them that he has sold out his "Bottling Business" to his brother-in-law, N. MARACHE, and would recommend him to their patronage.
New Orleans, Nov. 1, 1840. WILLIAM MASSEY
____________________

THE undersigned having purchased the BOTTLING ESTABLISHMENT of Wm. MASSEY, 23 Bienville st., will continue the business at the "old stand," where he will keep on hand a supply of PORTER, ALE AND CIDER of the best quality, and solicits a continuance of their patronage hitherto bestowed on their predecessors.
New Orleans, Nov. 1, 1849 N. MARACHE.
The above porter bottles date about 1847 to 1849, when Massey sold his bottling establishment to his brother-in-law Edward Nicholson Marache and focused on the wholesale distribution of Poultney, Collins & Massey beers. These bottles have the appearance of Pittsburgh or Midwestern manufacture.
Massey moved back to Philadelphia in 1854 to more closely manage the brewing business. The firm became Poultney & Massey during 1854, Massey, Collins & Company during 1858.
Marache continued the bottling of porter, ale and cider, in casks, barrels and bottle both wholesale and retail at 19 and 21 Bienville thru at least 1855 as advertised in the 1855 New Orleans Directory. Marache's wife Hanna died in 1856 and in the July 26, 1856 edition of the Times-Picayune, T. F. Murray advertised that he was the "Successor to N. Marache" and was a dealer in "Ale, Porter and Cider wholesale and retail" at 19 and 21 Bienville street. Murray continued the business thru 1858. In February Also in 1856, Marache and a H. Bidwell formed a partnership to conduct a Western Produce and Commission business, but Marache resumed the bottling business as advertised in the June 20, 1858 Times-Picayune:
NOTICE.
The advertiser begs leave to inform his friends and the public that has resumed the Bottling business at his old stand, Nos. 19 and 21 Bienville street, where he will keep a full assortment of PORTER, ALE AND CIDER of the very vest quality.
Also a superior article of DRAUGHT ALE AND CIDER, LAGER BEER, CORKS, BOTTLES, &c.
Families supplied with an extra article.
N. MARACHE
19 and 21 Bienville street
Macache continued to advertise thru 1859 and was listed in the July 1860 tax roles, but appears to have vanished from the record. There are no known Marache or Murray bottles. With the exit of Marache, Massey no longer had an agent in New Orleans and urged Louis C. Arny to go there and represent the brewery: apparently at 52 New Levee. Soon after the Civil War started and Arny, loyal to the south, joined the Southern Army. More on Arny later. The war would paralyze trade in the South and the shipping of beers from the North was halted until the battle for New Orleans was over. The City was taken by Union forces in May of 1862. The city of New Orleans slowly reopened for business as it did not face the utter destruction that befell many of the other Southern Cities. On June of 1863, William Massey was back in New Orleans as advertised in the Times-Picayune on June 19, 1863, when he was located at 26 & 28 Bienville and wished "to buy bottles and jugs." On November 10, 1863, Massey advertised that he was selling out his bottling works to John A. Blaffer. The ads appeared in the Times-Picayune:
Notice.
HAVING sold out my entire interest in the Ale and Porter Bottling Establishment, Nos. 26 and 28 Bienville street to Mr. J. A. BLAFFER, I would return my most sincere thanks to the public for the patronage bestowed on me for many years past, and now take pleasure in recommending my successor, who will continue the business at the same old stand.
William Massey
This ad was followed by one for John A. Blaffer announcing he was the "SUCCESSOR TO WILLIAM MASSEY." J. A. Blaffer continued to advertise for bottles and selling ales and porters at 26 & 28 Bienville thru 1864. With the War, bottles must have been a scare commodity.
Massey returned to Philadelphia a second time. The Philadelphia brewery became Massey, Huston & Company during 1867, William Massey & Company during 1869 and finally The William Massey Brewing Company during 1882. During these years the brewery when thru a large number of improvements and was at one point the eleventh largest brewery in the United States. The picture below from 1872 shows how the brewery expanded as compared to its appearance in 1831 as illustrated above when under the direction of Dawson.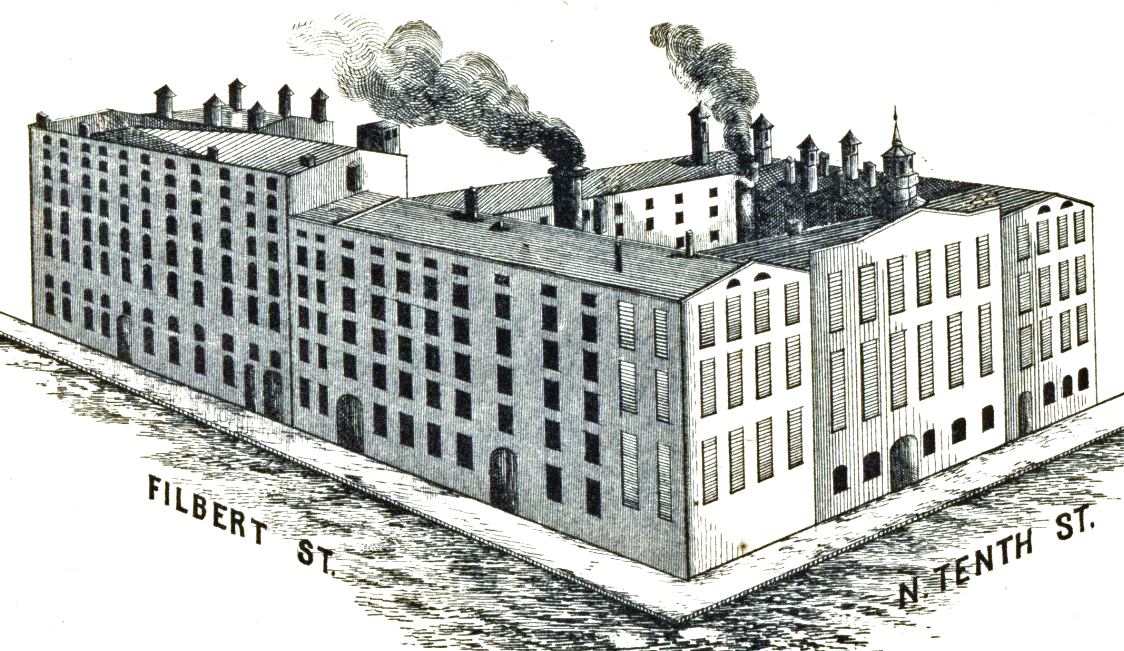 Massey died a millionaire on February 16, 1891 and although contemporary authors state that the brewery went downhill without his leadership and closed in 1894, this is just not true. The facts are laid out in The Times on April, 26, 1891, just a few months after Massey's death:
Betz Absorbs Massey.
Arrangements for the purchase of the entire stock and goodwill of the William Massey Company by John F. Betz & Son, Limited, have been consummated, and on the first of the next month the Massey Company will go out of the brewing business. The causes that led to this were several, among them being the death of Mr. Massey, the necessity for settling his estate, and the great decline of late years in the consumption of ale, owing to the great increase in demand by Americans for lager beer.
In 1893, the brewery property and buildings was sold for $325,000 and included ground rents of $325.25 a year. It was demolished later that year to make way for a large commercial building that cost over $600,000 to build. As part of the demolition, 2 million bricks were offered for sale. The story now returns to New Orleans and Baffler & Company.
In January 1865, J. A. Blaffer & Company advertised for the first time, extensively advertised that they were agents for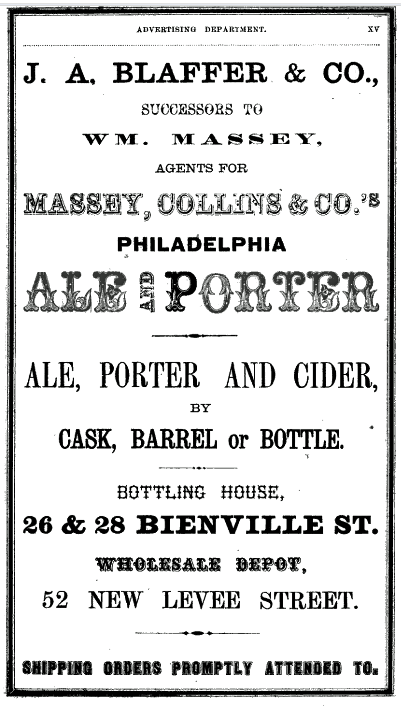 Massey, Collins & Company's celebrated Philadelphia XX ale and porter and opened a new location at 52 New Levee Street. The 26 & 28 Bienville address was reserved as the bottling house and the 52 New Levee address was the wholesale location. In October of 1865, the firm received seven casks of bottles from Pittsburgh on the steamer Dictator. In 1866 the bottling house extended to include 30 Bienville Street. 1867 brought a move of the wholesale location to 53 Gravier Street and the addition of Gustavus Bergner's Philadelphia Lager Beer to the product line and a steam malt mill at the bottling works. The Fall of 1873 started to mark changes for the company that would continue into the next year. First, as advertised in the Times-Democrat on October 5, 1873, N. R. Pepin retired from the firm on September 30 of that year and "J. A. BLAFFER, will continue the business under the same name and style as heretofore" and that the firm expired "by limitation." we also learn that George Schaffer, a long term employee of the bottling establishment, was taking "charge of our store, No. 53 Gravier street.
Almost exactly a year later, Blaffer & Company sold off their bottling business as advertised in the October 2, 1874 edition of the New Orleans Bulletin:
NOTICE-HAVING SOLD OUT OUR ALE and Bottling establishment, conducted for the past ten years at Nos. 26, 28 and 30 Bienville street, to Mr. LOUIS C. ARNY, we beg leave to return our sincere thanks for the patronage so liberally extended to us during that period.
And now we take pleasure in recommending our successor, Mr. L. C. ARNY, to our friends and customers.
We shall continue the sale of HOPS, MALT, CORKS and BREWERS' and DISTILLERS' SUPPLIES, at No. 53 (late 53) Gravier street, where we shall be pleased to meet our old friends.
J. A. BLAFFER & CO.
52 Gravier Street.
________________________

REFERRING TO THE ABOVE, THE UNdersigned notifies the public that he will continue the BOTTLING BUSINESS at Nos. 26, 28 and 30 Bienville street as heretofore conducted by Messrs. J. A. Blaffer & Co., and respectfully asks a continuance of public patronage so long extended the old firm.
LOUIS C. ARNY,
26, 28 and Bienville Street.
New Orleans, Oct. 1, 1874
The above Blaffer & Company bottles have the appearance of Pittsburgh area manufacture and are similar to bottles used in Louisville, Ky. Some of them may well be from the above notation of the receipt of bottles from Pittsburgh in 1865.
Louis Christian Arny was born about 1823 and was a clerk for T. S. Waterman prior to purchasing the bottling business of Blaffer & Company in 1874. In the 1875 New Orleans Directory, Arny advertised: "Foreign and Domestic Ale, Porter, Cider, Lager Beer and Ginger Ale in casks, barrels and bottles." Soft drinks were a new product line for the bottling works and were likely added based on Arny's experience working for Waterman, a longtime New Orleans soda water bottler. By 1880, he had added Lemonade and Sarsaparilla and was selling bottlers' supplies. His son, William T., had also entered the business as a clerk. During 1888, Arny moved his business to 19 Canal Street and the business appears to have been more focused on soft drinks than that of malt liquors. During 1894, Arny moved his business to 213 Carrol. The following year, the business was relocated again. This time to 513 South Peters. Due to failing health and advanced age, the elder Arny withdrew from active management and William T. took over its management.
On July 27, 1902, the elder Arny died and the business fell into the hands of his widow Sarah. His son, William T. continued to manage the business. The obituary of the elder Arny in the New Orleans Item on July 28, 1902, recounts his life and provides insight to his early life, but that is another story. The business continued to be called L. C. Arny.
The company exhibited at the 1904 Columbus Exhibition in Saint Louis and showed the following products: lemon soda, champagne cider, birch beer, raspberry soda, orange wine, cream foam, New Orleans mead, ginger ale, celery and iron, lemon sour, Saratoga cream, cherry and pepsin orangeade.
In 1908, the business moved to 1101 Annunciation and in advertisements in 1909 claimed to have been established in 1860, the year Arny came to New Orleans at the urging of Massey. This same year they advertised "Happy Jack," a non-alcoholic beverage that appears to have been a near-beer. In 1912, if not earlier, the company began to advertise the sale of "Dicky Bird" or Dicky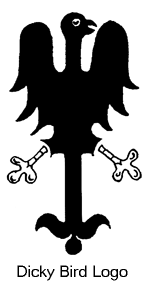 Bird Celery. It is described as follows in this Times-Picayune advertisement on June 5, 1912:
Thousands are fond of Celery---As a refreshment nothing quite takes its place. As a tonic it has no equal. Real, pure, unadulterated celery juice, blended with pure granulated sugar and carbonated distilled water in the proper proportion, looks like fine champagne and is far more delicious as a table or fountain beverage.
Such is ARNY'S DICKY BIRD CELERY. Used as mixing agent for "hiballs" it greatly enhances the drink. The best Fountains, Cafes and Restaurants have "Dicky Bird" on the menu. This "Dicky Bird" Celery is different from the hundreds of cheap concoctions known under the name of CELERY TONIC.
In October 1913, The Dicky Bird Company was organized to manufacture and market this new drink. Soon after William T. Arny transferred the physical land and buildings and all movable property to Henry V. Arny for $8,000 and on the same day Henry V. Arny transferred the same land and movable property valued at $20,600 to the Dicky Bird Company. Edwin W. Arny, operated this company out of the old bottling establishment at 1101 Annunciation.
In the 1914 New Orleans Directory, the Dicky Bird Company was listed as "Successors to L. C. Arny" with E. W. Arny president and Wallace A. Hatkinson as secretary and treasurer and sold "Carbonated Drinks, Syrups, and Dicky Bird Celery". In May of 1915, the company was forced into bankruptcy, apparently for nonpayment of notes due to Miss L. C. Arny. Attempts to sell the company failed and the business, property and movable assets were sold at auction in September of that year. Included in the sale were siphon bottles, bottlers supplies, open accounts and trade mark 91,634 for the Dicky Bird Celery.
This brought to a close this long established New Orleans business of 85 years. Interestingly, Dick Bird Syrup was still listed for sale in a 1922 Druggist circular.
The early Arny bottles are clearly of Pittsburgh manufacture and some are marked accordingly. These include ale bottles, a semi-round bottomed bottle marked ginger ale, and two different pony style bottles. Later bottles include Hutchinson bottles and a crown top bottle. One pony, one Hutchinson and the crown have the mark of D. O. Cunningham, Pittsburgh. There are no known Dicky Bird Company bottles.
Bottle images courtesy of Glass Works Auctions and Ntqlvr. Dawson Brewery image courtesy of the Library Company of Philadelphia.